Ferie med hund i Danmark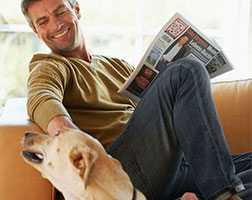 Esmark tilbyder dejlige sommerhuse, hvor familiens hund også er velkommen
Danmark og især den jyske vestkyst er et ideelt rejsemål, når hunden skal med på ferie. Og det skal den naturligvis.
På Holmsland Klit er der masser af plads og rig mulighed for at gå lange ture langs stranden, nyde den smukke natur og den friske luft. Til glæde for både menneske og hund.
Ferie i et sommerhus på vestkysten er den perfekte ferieform for familier med en eller to hunde. Her er der masse af plads og frihed til bevægelse både ude og inde. I et feriehus kan I slappe af i hjemlige omgivelser – du og din hund vil føle jer godt tilpas fra første øjeblik.
Tag hunden med på ferie helt gratis
Hos ESMARK finder du mere end 850 ferieboliger, hvor din hund også er en meget velkommen gæst. I flere af husene er det sågar tilladt at tage op til to hunde med. Helt gratis.
Kig efter dette symbol, når du skal finde et godt feriehus til dig og din hund. Symbolet fremgår både på vores hjemmeside og i vores feriehuskatalog.
Hvis du skal have din hund eller andre kæledyr med på ferie, kan du med fordel benytte den avancerede søgefunktion på vores hjemmeside. Ved hjælp af den kan du målrettet søge efter f.eks. sommerhuse med lukket terrasse eller sommerhuse tæt på stranden.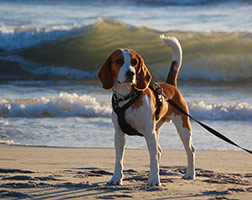 Nyd en dejlig gåtur langs stranden, hvor hunden rigtig kan boltre sig
Med hunden i naturen
Når du går tur med din hund i naturen, skal den som hovedregel være i snor. På de fleste danske strande, herunder også stranden langs Holmsland Klit, er det dog tilladt i perioden fra 1. oktober til 31. marts at lade hunden løbe frit. Under forudsætning af at du har fuld kontrol over din hund og at den ikke er til gene for andre personer, hunde eller det vilde dyreliv. Resten af året skal hunden altid være i snor, når I færdes ude.
Uanset hvor i naturen, I befinder jer, bør du altid huske at medbringe en lille plasticpose og samle hundens efterladenskaber op.
I Danmark findes der mere end 150 hundeskove, hvor din hund kan færdes frit uden snor. Dog aldrig alene. Nedenfor finder du en oversigt over hundeskovene, der ligger i nærheden af dit feriehus.
Hundeskove i nærheden
Der er flere hundeskove i nærheden af Holmsland Klit, hvor din hund må løbe frit omkring: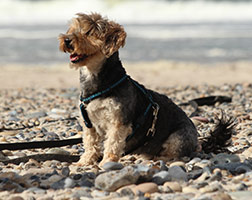 Tag hunden med i hundeskoven, hvor den kan løbe fri
Femhøjsande Plantage, Ringkøbing
POI GPS-Koordinaten:
56.08812, 8.29933
Hundeskoven i Femhøjesande Plantage ligger ca. 4 k. fra Ringkøbing Centrum. Hele arealet, der tilhører Skov- og Naturstyrelsen er hundeskov (ca. 20 ha). Arealet findes ved, at køre fra Ringkøbing mod Herning ad A15. Efter ca. 4 km drejes til venstre ad Kærbyvej mod No. P-pladsen findes umiddelbart efter på højre side. I plantagens vestlige ende er der indrettet en naturlejrplads.
Blåbjerg Klitplantage, Nymindegab
POI GPS-Koordinaten:
55.813418, 8.211604
Indhegnet hundeskov beliggende i Blåbjerg Plantage, Nymindegab. Der er p-plads med bord og bænke, toilet og indgang til hundeskoven først for på Sdr. Klitvej, når man kommer fra Vesterhavsvej Vesterlundsvej. Der er mange smalle og ujævne stier, og skoven kan derfor ikke anbefales til gangbesværede, kørestole eller barnevogne.
Hundeskov i Skjern Enge
POI GPS-Koordinaten:
55.93194, 8.50323
3,5 ha stor indhegnet hundeskov beliggende i Skjern Enge, Petermindevej ved Skjern Bådehavn. Drej til venstre før vandet, når du kommer ad Petersmindevej fra Birkvej.
Husby Plantage, Husby, Ringkøbing Skjern
POI GPS-Koordinaten:
56.28543, 8.18209
Indhegnet hundeskov beliggende lige nord for Husby på Klitvej i retning mod Thorsminde. Der er adgang til skoven fra p-pladsen.
Andre husdyr
Udover hund er det tilladt at medbringe kat, kanin, marsvin, hamster og skildpadde i de sommerhuse, der er markeret med "husdyr tilladt". Bemærk det tilladte antal husdyr under dyre-symbolet.